New Leadership At Scheffey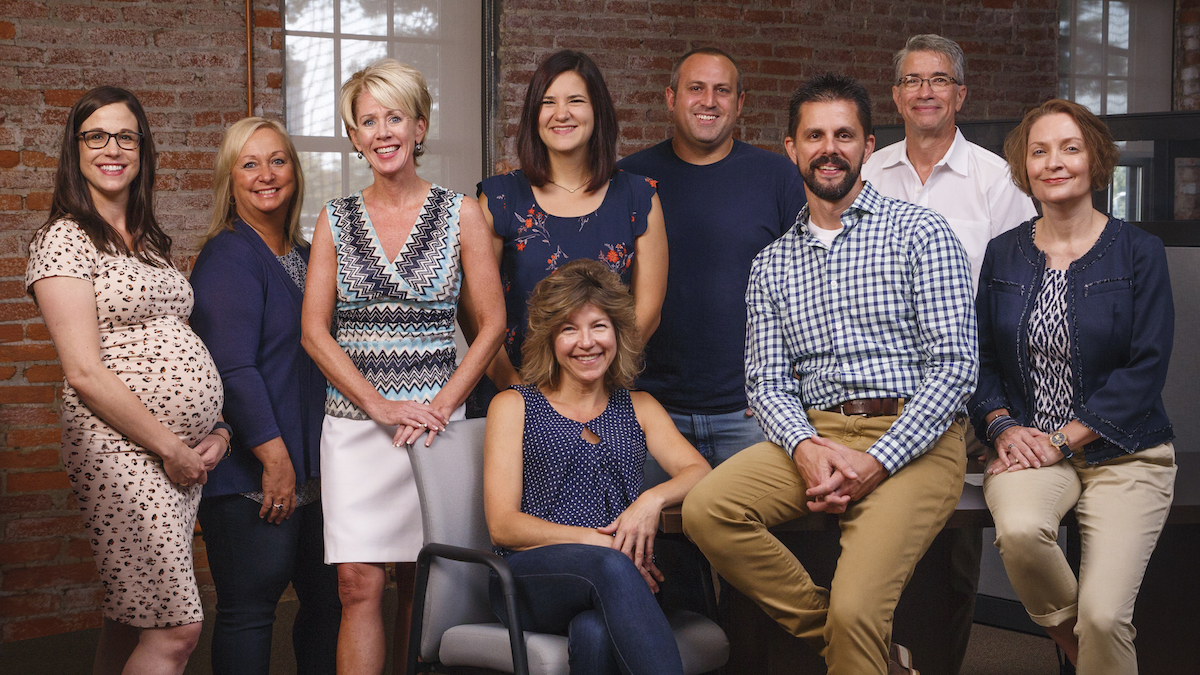 We at Scheffey are excited to announce a new President and Owner, Kevin Murphy.
Kevin has been a part of Scheffey, an integrated marketing agency, since 2005. While his title has always been the Operations Director, working in a small agency has allowed him to wear many hats as our finance and accounting, HR, IT person, and all-around go-to guy. Kevin has also been an integral member of our leadership team.
To give everyone a small look at Kevin's background and plans for Scheffey, we sat down with him for a quick interview:
Congratulations on your new role at Scheffey! What motivated you to take that step?
Thank you! Well, owning a business has always been a desire for me. Even before I started working at Scheffey I knew I wanted to own and operate my own business. I didn't know it would be in marketing, but when I think about my past experiences and about how I went to school for marketing, this really feels like a natural fit. I've been with Scheffey since 2005, and the longer I was here, the more involved I was in the daily operations as well as being on the leadership team, the more excited I became at the thought of being an owner or part-owner of this business. Scott Scheffey started talking about succession planning more than a year ago, and it felt very natural to step up and start the process of looking to acquire Scheffey.
When were you first exposed to the idea of running your own business?
When I was about 15, I started working for my uncle who had his own small business refinishing furniture. I worked closely with him as his only employee, and only part-time at that, so I got to see some of what it takes to run a small business. I worked for him through my school years into college. I think the biggest thing I took from that experience is that as a business leader, you have to work as hard ON your business as you do IN your business. I will carry that with me into how I approach my role at Scheffey.
How would you describe your leadership style?
It's awkward to say about yourself, but I'd say I'm more of a servant leader. I'm not here to boss people around. I have ideas and I like to look at the big picture, so I won't shy away from making executive decisions when they need to be made, but I'm really here to help the Scheffey team be the best they can be. I've got a reputation here of being the go-to guy. If you have a need, you can come to me, we'll figure it out together, and I'll help you move forward in it. I support the team so they can continue to do great work for our clients.
How has your experience at Scheffey equipped you for this new role?
I think by having complete access to all of the operational aspects of the business – already being fully involved in the finance, fully involved in HR and IT – as well as knowing the heart and history of the business means I can step in and immediately keep us moving forward. Everything I had been doing as a part of the Scheffey team and as part of the leadership team leads to stepping into this role. While we won't stay stagnant – there's always something that needs to ebb and flow in the marketing industry and in business in general – by coming in as an existing leader and now owner of the business means everyone here already knows my heart and the way I approach things. I know my forte is in making sure the business is strong from operations and HR and finances, and this will help in guiding the team and business forward as a leader.
You were a part of helping to solidify the culture of Scheffey, both recently and when Scheffey established the values, vision, and mission. Can you tell me about that?
Back in 2007, we worked with the North Group to start defining Scheffey's vision, mission, and values. I was a part of the leadership team at that time, and as a team, we put words to the culture that was already there. Things change here and there over the years, and we've continued to refine our values as we continue to uncover who Scheffey is and where we are going, but a lot of the original values carry through to today. That's one of the reasons I've stayed with Scheffey these past 15 years, and it influenced my decision to purchase the business. We live our values and bring them to life in our work every day. It's part of our recruitment and onboarding processes, and we seek out others with similar values. This always sat well with me, making it a natural fit to purchase a company I've believed in for so many years.
What does your family think about your new ownership of Scheffey?
The girls are excited. Amy is excited and obviously nervous. Amy and I have been married for 23 years. We just celebrated our anniversary on October 12th. We have two daughters, McKenna and Maya. McKenna is going to be 18 in November, and Maya just turned 13 in July. They both do Irish dance.
Murphy is obviously an Irish surname. Is that what drew them to Irish dance?
We didn't seek out Irish dancing. Irish dancing found us. My older daughter was invited by a friend to try a class back when she was five, and it went on from there. It started out as something fun to do with her friends, and it has grown into being more about the competitions. Both girls have dedicated a lot of time and energy to Irish dancing. Most people don't know about the Irish dancing world, but there is a lot involved. They practice in the studio three nights a week for two-hours, practice at home on a stage I built in our basement, spend long weekends sometimes competing once or twice a weekend all year long, sometimes winning and sometimes losing. It's really a roller coaster ride. But they love it. McKenna has been dancing for roughly 13 years, and Maya has been dancing for about nine years. It's really grown, and through it, my love of the Irish culture continues to grow. I've been lucky enough to travel to Ireland three times, and I look forward to going again in the future.
Well, you are no stranger to being dedicated to a pursuit. I hear you're an Eagle Scout.
I am, yes. Becoming an Eagle Scout was probably one of my bigger accomplishments in my youth and young adult life. My father helped push me to finish it out, but I spent a long time going through the ranks from Cub Scouts through becoming an Eagle Scout. I am proud of this accomplishment because not many people see it through that far. And Boy Scouts did a good job preparing me for life. They pushed me into situations I hadn't been exposed to before, like spending a week away from home or doing activities that I wouldn't otherwise do. They introduced setting goals by trying to earn merit badges. They also encouraged serving the community. For my Eagle Scout project, I ended up building a wooden playground for a local nonprofit. Some of these skills continue to serve me in my dedication and in the goals I strive to achieve as a person and a leader.
That kind of dedication will likely serve you well in your new role. It sounds like your family is dedicated and excited for you as well.
Yeah, they're excited. They know that this is something that's been on my heart for a while, and so they're happy that it's coming to fruition. It's been over a year that we've been talking about this in some form or fashion, so I think they're happy for me.
Kevin Murphy is the President and Owner of Scheffey, bringing decades of experience and leadership to this role. You can view a brief bio about Kevin here, or reach out to Kevin and our Scheffey team via our contact page.