Digital Advertising: Pitfalls and Opportunities for This Weird Year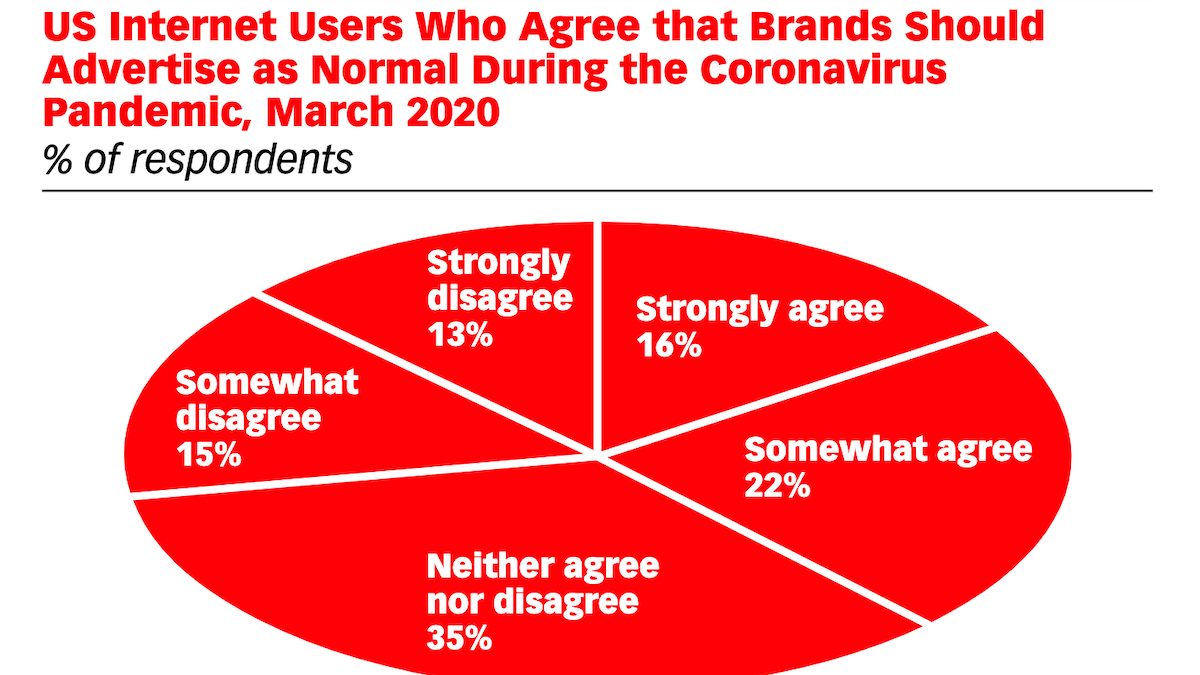 (Full chart below)
2020 has certainly been a weird year so far. That businesses have faced "unprecedented challenges" has moved from being a sad reality to a dark-humored joke. In reality, business leaders find themselves pivoting strategies to respond to the economic downturn, rapidly changing consumer behavior, and a variable ability to manufacture and supply products and services. In the midst of this, they are charged with keeping their brand in front of buyers and continuing to motivate their audience to a purchase decision.
Some businesses have needed to adapt their marketing and advertising strategies on a week-by-week basis in reaction to today's challenges. This is why many have turned to digital advertising to continue communicating with clients and customers. The flexible nature of digital advertising – and its ability to continue to reach people even when they stay home – made digital platforms the heroes of 2020 so far.
Like all advertising platforms, digital comes with unique opportunities to impact your audience toward action, but it also comes with potential pitfalls when it is mismanaged. As businesses are determining the best strategies for their digital campaigns, we would recommend carefully considering both sides of the digital advertising coin: the incredible opportunities unique to digital ads, and the cautious considerations that could help you avoid angering your audience.
Digital Advertising Opportunities
1. Pivot Messaging Quickly
Opportunity: Everything is changing very fast right now, affecting how people feel, what they discuss with others, and how they choose to make purchases. Using the same messaging for a long period of time can lead to message fatigue, as well as finding yourself a step or two behind the discussion. With digital ads, you have the ability to quickly create and deploy new ads with messaging that fits your brand, your goals, and the changing environment they are being displayed in.
For example, right now, messaging that conveys inspiration, positivity, or understanding makes a bigger impact in a time where negative messages are so prevalent. With digital ads, you can test out messaging that fits an inspiring or supportive tone. As you monitor your audience's response, you can hone in on the messaging that best fits their perceptions and behavior. Swap out overplayed or ineffective ads with new creative at any time.
Pitfall: On the opposite side of the coin is the caution to thoughtfully consider message changes before they are released. If brands pivot messaging too quickly in reaction to changing perceptions, they risk damaging their brand by releasing messaging that isn't on-brand or that seems superficial.
If you are engaging with the larger conversations of 2020, both speed and discretion are required, or you might risk seeming opportunistic, insincere, or – worst of all – part of the problem.
Next Step: To take advantage of the opportunity to reach people online, either have a data-driven plan to update your ads frequently, or keep a wide variety of ad sizes and messages in the queue circulating your digital platforms. This will help avoid message fatigue (making people bored with what you have to say and ignore your ads in the future) and help you stay in step with your audience's changing realities. If scaling messaging and ads is a problem for you, contact Scheffey. We are flexible about being an extension of your advertising team to help you keep pace with the changes. If you want to participate in larger conversations – like COVID-19 or #blacklivesmatter – make sure you have a Public Relations expert review your strategy and messaging to ensure your brand is being consistent and genuine.
2. Short Lead Times and Quick Responses
Opportunity: We are living in a fluid situation and conversations aren't the only things changing quickly. Businesses need to make tough decisions as they try to balance cash flow, product availability, market share growth opportunities, and any opportunity that might help them keep moving forward. Digital advertising relieves some of the burden by providing the means to keep buyers interested in your brand without needing to commit to a long-term campaign. If operations change overnight, digital ad campaigns can be changed the very next day. For example, if a resurgence of COVID-19 causes businesses to close again, digital ads promoting open hours can be stopped immediately. This prevents you from spending money on ads promoting a service you no longer offer. On the other hand, as businesses are able to open and offer new products to their clients, digital ad campaigns have very short lead times and are quick to get up and running.
Digital ads are also highly trackable, which helps business owners immediately recognize the ROI of their ads and of each digital platform. This means they can quickly turn off ads on platforms that are underperforming and provide more ad spend for platforms that achieve their goals.
Pitfall: Again, we want to avoid knee-jerk reactions to changing situations. When states initiated shutdowns in response to the COVID-19 pandemic, we saw a lot of businesses quickly stop their digital ads. While it makes sense to stop promoting services you can't offer, going suddenly dark could communicate a negative message to your audience about how your business is faring. Instead, we would recommend turning off digital ads until your messaging adapts to the situation.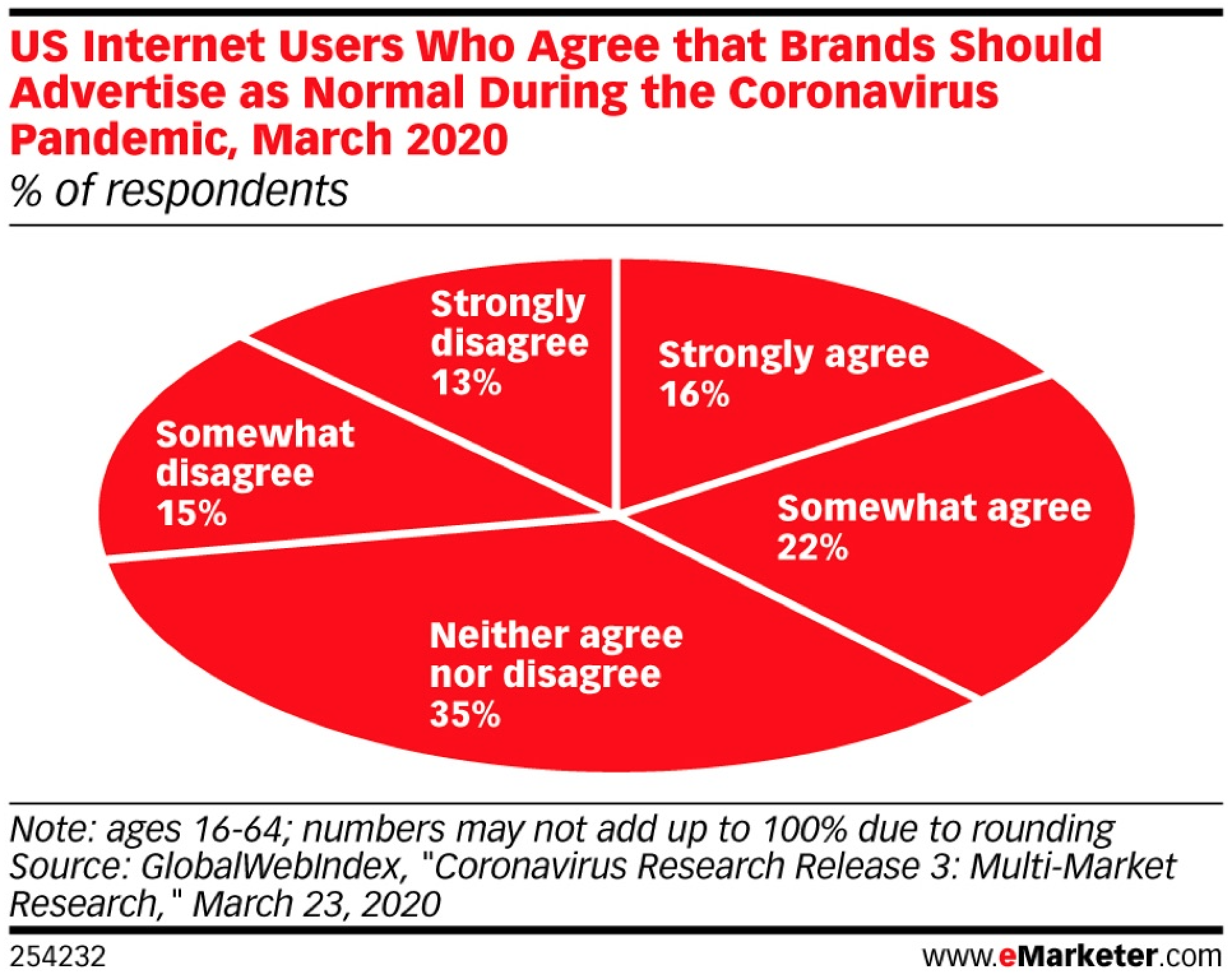 Next Step: Going dark has never helped a company grow. Many consumers actually agree that they still want to hear from brands, but they are looking for advertisers to talk about how their brand is helpful or how the company plans to face changing situations. Brands can gain new followers and new interest in their company if their digital ads flex to meet their audience's demand. If your company has turned off digital advertising in response to the many challenges of 2020, contact Scheffey to talk about initiating a targeted campaign for reaching your audience the most cost-effective way. We can also help you navigate digital metrics and evaluate platform and messaging effectiveness.
3. Following Trends
Opportunity: Not all trends are created equal, but when a company can hop on a trend to make an impact for the brand, it can have some amazing results. While we'd never recommend trying to "go viral" as a strategy, carefully monitoring emerging digital platforms and content trends helps your company stay a step ahead of your competition. For example, a consistent trend since the COVID-19 pandemic hit the U.S. is the increase in time spent online. We see this across devices, though we see significant mobile phone use. Depending on your goals and audience, we might recommend creating call-only ads or mobile-only ads that are designed specifically for phone screen sizes and motivate buyers to call your company.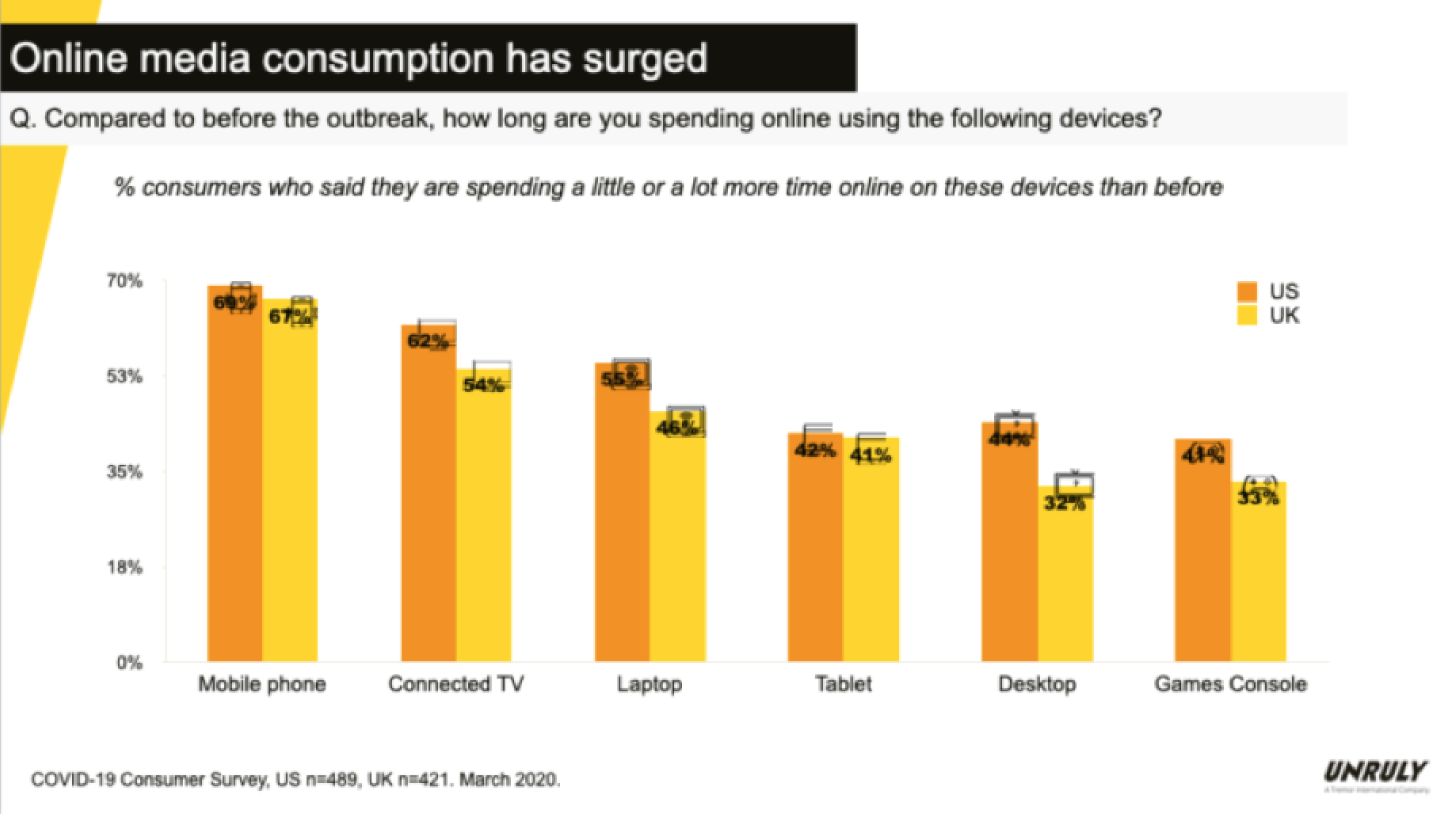 Pitfall: Racing after the next shiny trend would leave anyone exhausted, and measuring the impact would be a nightmare. Additionally, jumping on a trend too quickly might stop you from learning how to do it well. For example, consider the trending digital channel, TikTok. TikTok is an app for short mobile videos which has enjoyed explosive growth in 2020. While it has tested a few ads already, the platforms recently announced a TikTok for Business plan that would enable brands to advertise with branded effects, in-feed videos, and hashtag challenges. However, brands that rush to the scene are at risk of alienating audiences if their content doesn't match what the platform promises: creativity, expression, and broad community conversation. Brands need to thoughtfully consider how they can meld with the culture of TikTok before they put significant ad spend into this platform. (Also, TikTok is currently under investigation regarding data mining and sharing, but no definitive statements had been made at the time of this article's publishing.)
Next Step: Staying on top of trends and what kinds of content works well for different digital audiences is a full-time job! (That is why we have people at Scheffey doing just that.) To get the best benefit out of your digital advertising, it pays to be both creative and strategic. If you're not free to make the time commitment to create the content, consider partnering with Scheffey to manage digital ads and messaging. Learn more about our digital services, or give us a call to ask about how we can come alongside your business to help you capitalize on digital advertising in these changing times.